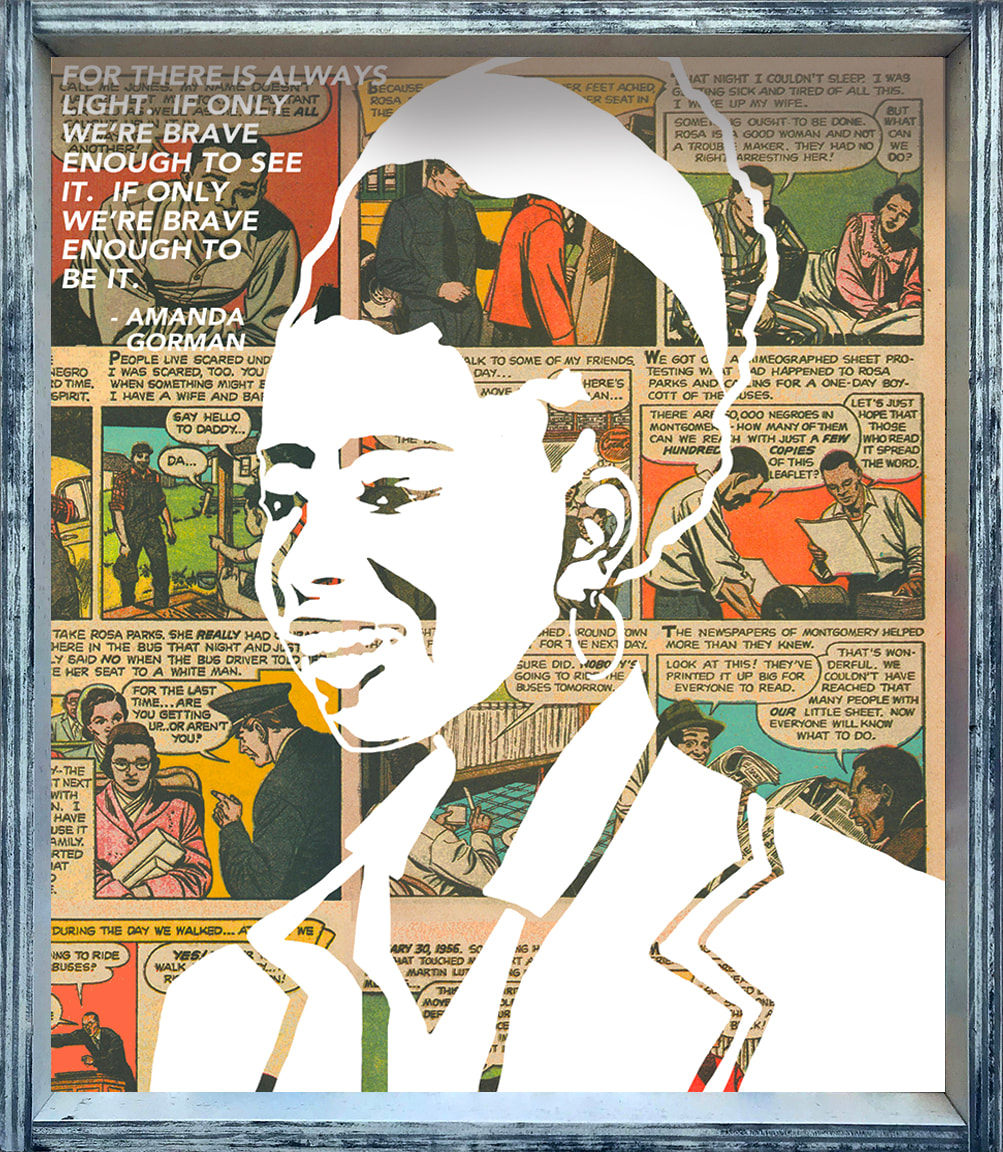 Amanda Gorman
SKU:
On Sale
Unavailable
per item
Amanda Gorman. As we've been celebrating Black Excellence through the month of June, my thoughts kept drifting to poet activist Amanda Gorman and her explosion into my consciousness and into the hearts of many Americans at the inauguration earlier this year. Her inaugural poem "The Hill We Climb" blew me away. Since then, I can't get enough of what she's written. 
She's making waves with her words - even reciting the only poem ever at a Super Bowl game! Poetry at a football game?! This is culture shifting stuff! Because she's been so much on my mind, I was inspired to create this portrait of her and add it to my group of "heroes."
The background I've used for this portrait is a 1957 civil rights comic that tells the Story of the Montgomery Bus Boycott. Just under and to the left of Amanda's chin, you can see Rosa Parks being "asked" to give up her seat. Amanda's poetry focuses on issues of oppression, feminism, race, and marginalization and her contributions both through her poetry, but equally through her activism strike me as heroic. So that's why I chose to use not only this particular comic for the background of her portrait, but this particular section of it where Rosa Parks was featured.
Reads beautifully both from across the room and up close. Find new details to discover in it every day.
Made entirely with archival materials so its fresh vibrant colors won't fade or decay; a piece to treasure your whole life.
The piece comes framed and wired, ready to hang.
Mixed media: wood, ephemera, acrylic paint
21" wide x 25" high
1/2 PRICE FLAT RATE SHIPPING $82.50 (Regularly $165. At checkout, choose 1/2 Price Small Art Flat Rate option)